Happy Birthday to: Miracole and Lori
Happy ♥ Anniversary to: Bree & Nick and
Misty & Brian
HUCK'S HAPPY HOURS
Thursday - Sunday (4 pm - 7 pm)
DISCOUNT on 100+ varieties of Domestic & Imported Beer & Wine
Thursday ~ Rum Runner (6 pm - 7 pm)
Friday ~ Hucks Moonshiner (6 pm - 7 pm)
Saturday/Sunday ~ $7 (well) Rita & Bloody Marys
HUCK'S WEEKLY FOOD SPECIALS
Thursday
Nanna's Country Hamburger Steak Dinner
Friday
It's All About Pasta
Saturday/Sunday
Half/Half Basket Specials: Catfish/Grouper/Shrimp
DAILY ~ Catfish Basket / Tacos available upon request
PLEASE NOTE!
HUCK'S WILL BE CLOSED CHRISTMAS EVE AND CHRISTMAS DAY
SO OUR STAFF CAN BE WITH THEIR FAMLIES.
Video Producer Eric Geibel put together a little ditty to share with y'all about Hucks. We hope it makes you want to take a cruise to Hucks Cove here in Gautier, Mississippi. Hope to Cya soon!
HUCK'S IS NOW AN
"OFFICIAL" DOG FRIENDLY RESTAURANT
(The First in Mississippi)

Meet Indiana. Our very first canine guest. There are three locations for our furry companions: The Stage, The Shack and The Faraway Deck. In order to be "Dog Friendly," there are rules and regulations that have to be adherred to. These are posted at Huck's but for your information, please click

HERE

for a PDF of the Dog Rules and also click

HERE

for a PDF of the Pet Owner Guidelines for Huck's Cove. We are looking forward to seeing y'all -- human and canine alike.
Know of anyone looking to work in a cool place? Send them our way!!
Staff needed in all departments ~ will train.
Apply at Hucks – Wednesday - Sunday, Noon to 7 pm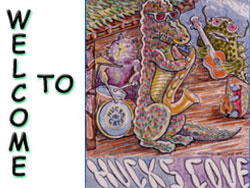 Welcome to Huck's Cove ~ A funky, friendly watering hole and grill located at the mouth of the Mary Walker Bayou and the West Pascagoula River. Specializing in great hamburgers, our tropical atmosphere is the place to be. We are all "no smoking" indoors but have a large deck area with outdoors heaters (if needed). This is the place to relax in a tropical and toasty waterfront with easy access either by auto or boat with plenty of parking ~ for both!
Check out the entertainment schedule on the Tunes & Events page. Come out to Huck's ~ Gautier's tropical waterfront paradise and enjoy the friendly Caribbean atmosphere, terrific food and Southern hospitality!! Oh! Click on The Legend of Huck for the true, folklore of Huck!