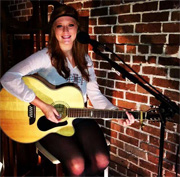 August 2 ~We pleased to have Hadley Hill entertain us at Hucks next weekend. Hadley plays a little of everything. Some examples are: Classic Country: Patsy Cline. Classic Rock: the Beatles, Rolling Stones, Jimi Hendrix, 80s rock: Sting. 90s Rock: Counting Crows, Sublime, Red Hot Chili Peppers. Soft Rock: Jewel, Adele, Alt Rock: Grace Potter, Mumford and Sons. R&B: Lauren Hill, Alicia Keys.. Reggae: Bob Marley. Top 40: Cee Lo Green, One Republic. Country: Lee Anne Womack and lots more.
Come to Hucks for a great night of Music
August 9 ~ Peridot is a local Mississippi group and boasts cover tunes, stripped down and bare boned, set to guitar and vocals. The group members are Tiffany Morris, Vocals & Shaker; David jones, Vocals & Djembe, Chris Loepke, Vocals & Guitar and Dan Myers, Vocals and Guitar.
All of the tunes they play are highly recognizable tunes you've heard on the radio a thousand times. Each song is handled with the utmost of care, stripped down and bare boned. From The Eagles to The Beatles to Jason Mraz & Colbie Caillat, each listener is bound to love the carefully arranged way we perform.
So .... iIf you're available, come out to Hucks and enjoy their music!